Summer Savings Double Up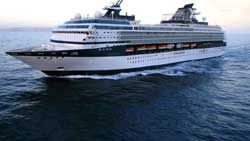 SUMMER SAVINGS DOUBLE TAKE
$800 savings and 50% off 3rd and 4th Guests
DOUBLE YOUR SAVINGS ON SUMMER VACATIONS WITH THE BEST PREMIUM CRUISE LINE.
WANT IT ALL AND MORE?
Double your savings to $800 when you book a Suite stateroom on 2018 summer sailings in Alaska, Bermuda or the Caribbean* Plus, the first two guests each enjoy FOUR free perks, including upgrades to our Premium Beverage
...

Celebrity Cruises' iconic "X" is the mark of the world's top–rated premium cruise line, with spacious, stylish interiors; dining experiences elevated to an art form; personalized service, with a guest–to–staff ratio of nearly 2:1; unexpected, trendsetting onboard activities, all designed to provide an unmatchable experience for vacationers' precious time. Celebrity sails to Alaska, Asia, Australia/New Zealand, Bahamas, Bermuda, Canada/New England, the Caribbean, Dubai & India, Europe, Hawaii, th
...
Multiple dates and itineraries available